Whole-Home Air Filtration Solutions Near Chandler, AZ
The quality of the air you breathe can seriously affect your health, sleep habits and overall mood. Air quality in your home can become a problem, especially if you or someone in your family suffers from asthma or allergies. The team at All Out Cooling & Heating will help you solve this problem before it even starts. We have a wide selection of air filtration systems to choose from for your Chandler, AZ, area home and our trained technicians will walk you through the best possible options for you and your family.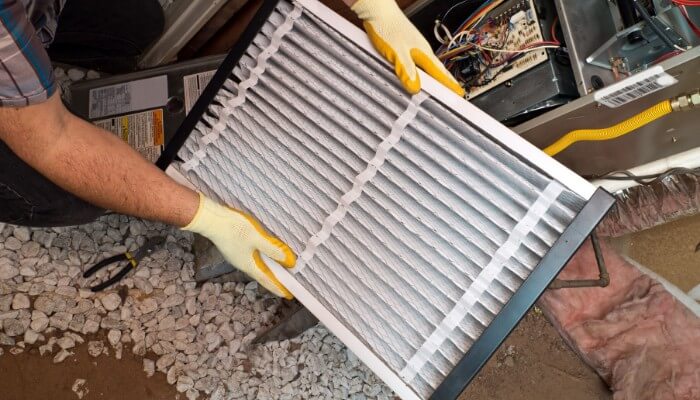 What Do Air Purifiers Do?
Does your home feel a little extra dusty? Perhaps there are unpleasant smells or extra humidity? You may want to consider having an air filtration system installed. Mother nature helps to clean up the air outdoors, but the air inside the home requires something different. Air filtration and purification systems can remove over 99% of contaminants from the indoor air and help to ease those unpleasant seasonal allergies all while breathing cleaner air every day.
Common indoor pollutants include:
Pet dander and dust particles.
Smoke and dust particles.
Mold spores, mildew and bacteria.
Building material debris.
Cleaning chemicals and insecticides.
Chemicals from wood, furniture and fabrics.
All Out recommends having an air filtration system installed to help combat those frustrating seasonal allergies and remove unpleasant contaminants from your home. We will work with you to better understand what kinds of pollutants are causing trouble and can be dealt with through a filtration system. With cleaner air, you and your family will enjoy a better night's sleep in the comfort of a healthier, cleaner environment.
Air Purification Installation
Are you thinking about installing an air filtration system in your home? Our Team of certified professional technicians has the experience and knowledge to perform top-of-the-line installations that last. We assure you that those harmful allergens and pollutants stay out of your clean indoor air so you can get back to enjoying your time at home.
In order to improve indoor air quality, we must first determine what type of pollutants may be causing problems. This could include pet dander, pollen, dust mites or even certain chemical-treated fabrics in the home. Then we will go on to recommend an air cleaning and filtration system that works for your home and your specific needs.
Benefits of installing an air purifier include:
Removing unpleasant odors.
Trapping airborne allergens.
Combatting seasonal allergies.
Neutralizing smoke smells.
Preventing airborne germs from spreading.
Cutting down on dust and allergens from carpets.
And more!
Our team of highly trained professionals will install your home air filtration system for maximum efficiency. Customer service and attention to detail are what we are known for to help you breathe easy and enjoy your fresh and clean indoor air environment.
Enjoy Clean Air in Every Room of Your Home
To help ensure that your air filtration system is working properly, we also strongly recommend that you get your air filters changed regularly. This avoids needing more expensive air filtration services down the road. There are many different types of filters available on the market. Our specialists will help you choose the correct system for your space and ensure it is properly installed to support and extend the lifespan of your heating systems and cooling systems.
Whether you're looking to install a new system or need help maintaining your current one, we're here to help! Trust our industry-leading customer support and craftsmanship and give us a call at 480-578-1370 ! We look forward to helping you make your home a healthy and clean environment.