Ductwork Repair Services Near Chandler, AZ
Are you noticing cold spots in your home? Perhaps there are noises coming from your ducts that sound like hissing? Your ductwork system may be ready for a check-up or repair. Our team at All Out Cooling & Heating will thoroughly inspect each and every part of the ductwork to get it ready to fill the home with clean fresh air again. No matter the problem, our technicians will quickly troubleshoot and diagnose the issue and implement a repair to make your Chandler, AZ, area home comfortable again.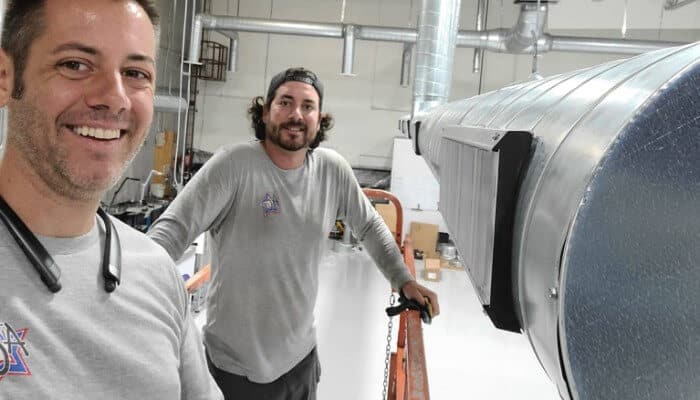 How to Tell If Your Air Ducts Need to Be Repaired
Air ducts are in charge of transferring air evenly throughout the home. You shouldn't be noticing one cold room and then one warm one under the same roof. Defects within the system can cause many issues such as fluctuating temperature, inconsistent airflow and even higher utility costs. If you notice any of these issues, our team of certified technicians is here to help.
Signs your air ducts need to be repaired include:
Poor airflow throughout the home.
Spike in your energy costs.
Unpleasant and lingering smells, such as mildew.
Fluctuating temperatures.
More dust than usual or poor indoor air quality.
Noisy HVAC system with rattling or hissing sounds.
Uneven heat and air conditioning distribution.
Over time, damages such as holes or dents may develop in your ductwork. This could be due to weather conditions, aging or a faulty installation. Our team is here to help with all of your air duct repairs. We carefully detect all aspects of the system to get to the root of the problem. Our technicians then come up with a long-lasting solution that works for your home. If the system is beyond repair and you need new ductwork installed, we will help you find the right system and complete the replacement with expert care.
Ductwork Repairs Done Right
We want you to enjoy a comfortable indoor climate with no worries about system breakdowns. If it's time to have your ductwork repaired, it's important to work with a professional to avoid further damage. Our trained technicians will start by inspecting the ductwork for any leaks, defective pieces or obstructions. We then analyze the situation and work through the best possible option for repair. Your systems are then tested to ensure that the correct amount of air is flowing.
Benefits of professional ductwork repair include:
Extends the HVAC system's longevity
Improved airflow and air quality.
Greater energy efficiency.
A lower monthly utility bill.
Efficient heating and cooling system.
Comfortable temperatures year-round.
And more!
We look forward to helping you get the repairs your home needs. Breathe fresher air, enjoy evenly distributed airflow and save on those monthly utility bills. Our trained technicians will accurately and efficiently come up with the perfect solution for you.
Count On Us for All Your Ductwork Repairs
When you get your ductwork serviced by All Out, you can rest assured knowing that the process was carried out by a qualified technician. Our team of professionals will treat your home as if it were their own. Trust our top-of-the-line customer support and craftsmanship in Mesa, Tempe and Sun Lakes, AZ! Whatever the service is, we always aim to exceed your expectations. You will be happy to see what the improvements will do for your home and comfort. Call us today at 480-578-1370 to schedule service!