Preventative Air Conditioner Maintenance Near Chandler, AZ
Prepare for the summer months in advance to make sure your home has a reliable air conditioner ready to go. Our team at All Out Cooling & Heating recommends having your air conditioner inspected annually in the early spring to ensure it's running efficiently and prepared for frequent use when you need it most. We are equipped to diagnose any issues that could potentially impact your home's energy costs, airflow, air quality and comfort. When you schedule preventative AC maintenance with us, you get the assurance and peace of mind you deserve that you will stay comfortable all summer long.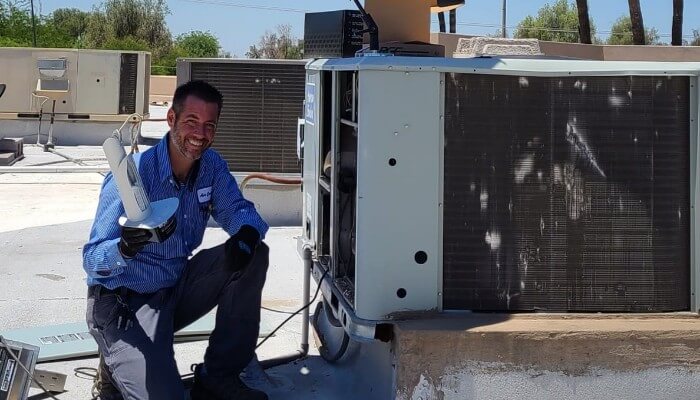 Why AC Maintenance Is So Important
The key to an efficient HVAC system is maintenance. Our team at All Out understands the frustrations that come along with inconsistent airflow, poor indoor air quality and discomfort during hot and cold days. When we perform maintenance on your system, you are extending the lifespan so you can save on your monthly utility costs, as well as on any future AC repairs. We are here to help keep you in a comfortable indoor climate year-round.
Our certified technicians will give you the assurance that you will have an efficiently running cooling system day and night. We help you focus on the important things, not the discomfort your faulty, ineffective system is causing.
Benefits of AC maintenance include:
Savings on monthly energy costs.
Increased longevity of your system.
Year-round comfort with fewer repairs.
Decreased chance of breakdowns.
Great performance and efficiency.
Cleaner air with fewer pollutants.
Less strain on ductwork systems.
And more!
Keep a clean and comfortable home with an efficiently running cooling system! No matter what the weather is outdoors, our team makes sure your indoor environment is cool and cozy year-round. Our trained professionals understand how frustrating high utility bills and uncomfortable or inconsistent airflow is. That's why our AC maintenance services ensure your system is inspected from top to bottom to keep your home comfortable all summer long.
Enjoy Peace of Mind With Professional Maintenance
We know your air conditioning is a big investment and you want it to last as long as possible. With proper installation and preventative maintenance, your system will be less stressed and work at greater efficiency for much longer. Let our certified technicians handle the hard work and ensure your AC is in clean working order with a professional stamp of approval.
We are familiar with a large variety of brands and products to tackle any job. Our customer service and craftsmanship will guarantee your satisfaction on your next HVAC project. We are here to help you every step of the way. We can't wait to perform maintenance on your AC system for guaranteed comfort day and night all across the Chandler, AZ, area! Give us a call at 480-578-1370 to schedule your service today.