Ductwork Installation, Repair, Cleaning & Sealing Near Chandler, AZ
Are you experiencing high spikes in your utility bills? Perhaps it's difficult to heat or cool certain rooms? Sometimes the issue isn't with the heating or cooling systems, but instead, within your ductwork. It's hard to tell what's happening behind the scenes, but we are here to help with that. We handle all of your ductwork needs in the Chandler, AZ, area to help you stay comfortable all year long. Whether you need new ductwork installed, need help with a leak, or need to schedule cleaning, our HVAC specialists will help you stay cool in the summer and warm in the winter.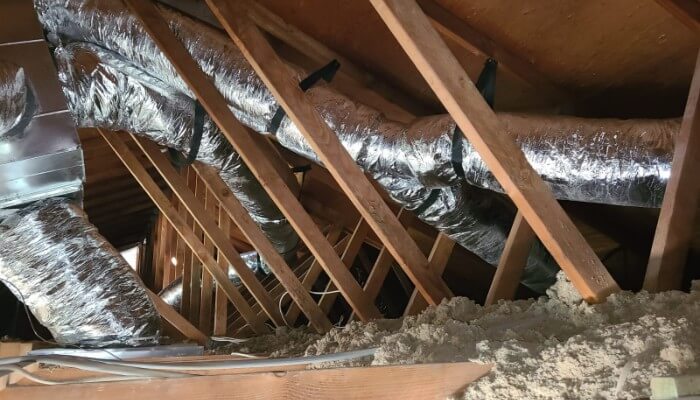 Ductwork Installation & Replacement
Sometimes repairs can only go so far for your damaged ductwork. If they have suffered extreme damage or perhaps were installed incorrectly, the best option may be to get a replacement. The team behind All Out Cooling & Heating is here for all your ductwork needs, including replacements or new installations. We will carefully inspect the ductwork, check to see if a replacement is your best option and install new ductwork working around your home's unique layout. Accuracy is very important to our technicians; we understand each home has a different blueprint. Let us wow you with the results of your duct installation.
What ductwork for your system?
With many options available, we understand it can be frustrating to settle with so many home improvement choices out there. We take the size and layout of your home into consideration to ensure the ductwork can support your current HVAC system as well as work for your budget.
Ductwork Sealing
Ductwork is essential to keeping an energy-efficient and comfortable home. Sometimes issues can arise such as leaks, which prevent your HVAC system from working correctly. This can cause airflow issues, high energy bills and all-around discomfort. Professional ductwork sealing corrects the issue and gets you back to comfort in no time.
Advantages of getting duct sealing done right include:
Consistent airflow.
No more cold or hot spots from room to room.
Better indoor air quality.
Extends your HVAC's longevity.
Increased energy efficiency for heating and cooling.
And more!
Whether you are cooling down your home during the summer or heating your home during the winter, we will handle all your ductwork needs. Don't let leaky, faulty air ducts cost you in the long run. Our team of certified technicians is here to help you stay comfortable year-round.
Ductwork Repair
Are you noticing poor airflow in your HVAC system? Perhaps there's a loud banging noise? It may be time to get your air ducts repaired. Our trained technicians will inspect the ductwork for any defective pieces or obstructions. We will then analyze the situation and work through the best possible option for repair. Your systems are then tested to ensure that the correct amount of air is flowing.
How to tell if your air ducts need to be repaired:
Poor airflow throughout the home.
Spike in your energy costs.
Unpleasant smells such as mildew.
Fluctuating temperatures.
You notice more dust than usual.
Noisy HVAC system.
When you get your ductwork serviced by All Out, you can rest assured knowing that the process is carried out by a qualified technician. Our professionals will treat your home as if it were theirs. Trust our top-of-the-line customer support and craftsmanship.
Ductwork Cleaning
Have you noticed a buildup of dust around your air vents or unpleasant smells when you run your heating or air conditioning? There may be a buildup of dirt and debris in your ductwork that needs to be cleaned out. Our team will professionally clean the air ducts and ensure there are no other problems so you can enjoy cleaner air throughout your home.
Benefits of professional duct cleaning include:
Less strain on your heating and cooling equipment.
Lower energy bills and greater energy efficiency.
Cleaner indoor air with fewer allergens.
And more!
If we find any other issues with your ductwork like leaks, rust or damage, we will let you know and recommend sealing or repair services. You can trust our team to keep your ductwork free of pesky dirt and debris for safer air all year long.
Count on Us for All of Your Ductwork Needs
Whatever the service is, our trained and certified technicians aim to deliver the best possible work for your specific needs and exceed your expectations. From sealing to installations, our team will provide you with an efficient air duct solution. When you count on us for your indoor comfort, you will be happy to see what the improvements will do for your home and comfort. Call All Out today at 480-578-1370 for the complete solution to all your ductwork needs!