Your Trusted AC Service Experts in Chandler, AZ
Are you building a new home or adding on to an existing structure that needs a new residential air conditioner? Is your current AC on the fritz or in need of a tune-up before Arizona summer hits? Either way, All Out Cooling & Heating is here to take care of all your cooling needs. Don't go another summer relying on standing fans to cool your Chandler, Mesa or Tempe area home!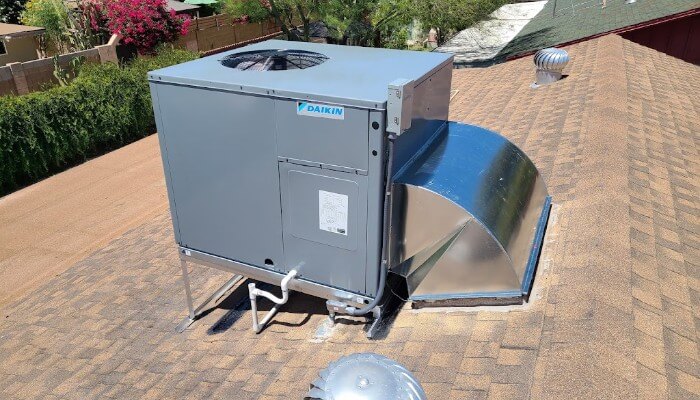 Life Expectance of an AC Unit in Arizona
In Arizona, where the sun can be relentless, the lifespan of your air conditioning unit can be significantly impacted. We understand the unique challenges that Arizonans face when it comes to AC longevity, and we're here to help you make the most of your cooling system.
The average lifespan of an AC unit in Arizona typically ranges from 12 to 15 years. However, several factors can affect this range, including the quality of the unit, its usage, and, most importantly, maintenance. Neglecting regular maintenance can drastically reduce the lifespan of your AC system, leading to costly repairs and early replacements. Our team specializes in AC maintenance services to ensure your unit stays efficient and operational for years to come.
At All Out, we offer a comprehensive range of AC services tailored to the unique needs of Arizona residents. Whether you need routine maintenance, repairs, or a full AC system replacement, our skilled technicians are ready to assist you. We take pride in keeping your home cool, energy-efficient, and comfortable year-round.
Our
Comprehensive AC Services Tailored to Chandler, AZ
As your local experts in all things air conditioning, we've got the skills and the local experience to offer air conditioning solutions specifically with the unique needs of the Chandler, AZ area in mind.
Air Conditioning Installation & Replacement
Are you interested in having a new central air system or ductless mini-split installed? Or perhaps you need a replacement for your current system? Look no further than All Out! We will assess your current situation and carefully plan the best possible solution for you and your home.
When it's time for a new AC, allow our team of certified technicians to carefully and thoroughly examine the layout and consider the best options available. We offer a wide range of quality products and will see what works best for you and your budget. Our technicians will then expertly install your new system, carefully considering the space provided.
Customer satisfaction is our number one priority so count on the team at All Out to take care of your installation. Our certified technicians are on top of all the latest trends when it comes to choosing the best AC brands and models for your space. We know how to maneuver around each unique layout to ensure your family's comfort day and night no matter what mother nature has in store.
Air Conditioning Maintenance
Living in this area, your air conditioner works overtime throughout most of the year. Regular AC maintenance is the secret to longevity and efficiency in Chandler's heat. Our meticulous maintenance services not only extend the life of your unit but also optimize its performance and enhance energy efficiency. By addressing concerns proactively, we prevent costly breakdowns and ensure your comfort all year round.
Did you know that All Out will not only repair cooling systems in your home but provide AC maintenance for long-term performance? Count on our team of trained professionals to keep you and your family comfortable year-round no matter what the weather brings us.
Air Conditioning Repair
Don't get stuck in the heat with a faulty or damaged AC system to rely on. Our team is specialized in all sorts of different systems, makes and models. When repairing, we carefully analyze the situation, develop a professional solution and offer maintenance options down the road. Our team wants your team to be comfortable year-round.
We understand how frustrating an inconsistent indoor climate can be. Our trained and certified technicians are here to make it easy for you. We get the job done correctly the first time to avoid any future issues and costs.
Is your air conditioner not working as it should? Our technicians will seek out the root problem and thoroughly investigate to see if a replacement is in order. We work with you to see in advance what system works best for your budget and your taste. Regardless of the system or brand, our team has the training and experience to get the job done right the first time.
We want you to be able to go about your daily routine without being distracted by uncomfortable temperatures. Faulty or damaged AC systems can cause many unpleasant inconveniences. That's why our technicians provide service you can trust.
Air Filtration
Enhancing indoor air quality is paramount in Chandler's challenging climate. Our air filtration solutions are designed to keep your home's air fresh and clean. These advanced systems efficiently capture dust, allergens, and pollutants, ensuring that you breathe easy. The benefits of improved air quality extend beyond comfort, with residents enjoying reduced allergies and a healthier living environment.
Ductless Mini-Splits
Introducing ductless cooling options, a modern solution tailored to Chandler's unique climate. These systems offer personalized comfort and exceptional energy efficiency. Whether it's a single-room application or a whole-home solution, ductless mini-splits provide precise temperature control and cost savings. Say goodbye to the inefficiencies of traditional ductwork and hello to comfort on your terms.
Ductwork Services
Well-functioning ductwork is vital in Chandler's climate, where AC systems work tirelessly. We offer a comprehensive range of ductwork services, including cleaning, installation, repair, and sealing. Clean ducts ensure efficient airflow and better indoor air quality, while expert installation and repair prevent energy waste. Sealing ducts enhances efficiency, reducing utility bills and extending your AC unit's life.
Why Choose Us
Local Expertise and Understanding of the Local Climate: With our deep knowledge of the Chandler, AZ area's weather patterns, we tailor our services to meet the specific needs of this region. We understand the strain that extreme heat places on cooling systems, and we have the expertise to address it effectively.
Experienced Professionals and Certified Technicians: Our team consists of highly trained professionals and certified technicians who bring years of experience to every job. From installations to repairs and maintenance, we deliver top-notch service you can trust.
Transparent Pricing and Accurate Estimates: We believe in transparent pricing and providing accurate estimates. You'll never have to worry about hidden fees or unexpected costs. We're committed to honesty and integrity in all our dealings.
Customer Satisfaction as a Top Priority: Your satisfaction is our ultimate goal. We take pride in delivering quality workmanship and ensuring that our customers are happy with our services. Your comfort and peace of mind matter to us.
Availability for Emergency Services 24/7: AC emergencies can happen at any time, especially during scorching Arizona summers. That's why we offer 24/7 emergency services. You can count on us to be there when you need us most, ensuring your comfort is restored promptly.
The Chandler, AZ, Area Team You Can Trust
We care about the quality craftsmanship of each job we work on. Our highly trained professionals are familiar with all aspects of the repair, maintenance, replacement and installation process. We inspect the layout of your specific space to know which products work best for your needs.
We understand the importance of comfort and don't want you to be distracted throughout the day by the indoor climate. We pride ourselves on providing high-quality customer service and efficiency. Our technicians will work with you to stay within your budget and choose what works best for your space.
Our team offers timely solutions to any and all problems related to your AC system. No job is too complicated or big for our team. So sit back, relax, and give us a call at 480-578-1370 to enjoy a comfortable indoor climate year-round!