Home Air Conditioning Repair Services Near Chandler, AZ
We understand how important air conditioning is for the comfort and well-being of you, your family and your home. The highly trained professionals at All Out Cooling & Heating will target any concern, small or large. AC maintenance and repairs as needed allow for worry-free summers and longevity of the products you invest in. By trusting our knowledgeable team of technicians, you can rest assured you are receiving innovative and carefully chosen solutions that will hold up under extreme heat and humidity in the Chandler and Tempe, AZ, area.
Our certified technicians accurately diagnose and correct common issues with your current units to restore functionality, provide longevity and help you save time and money. We provide repair services for air ducts, ductless AC mini-splits, central AC units and heat pumps.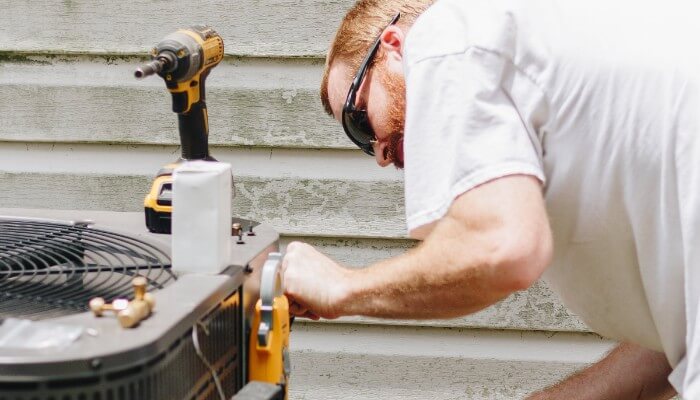 Does Your AC Need Repair?
It's important to take action quickly when you first notice any issues that come up with your AC system. By doing this, you can potentially avoid a complete AC replacement. Our certified and trustworthy technicians are here to not only help identify the issue but to come up with innovative solutions to extend the longevity of your unit.
Signs your air conditioner may need to be repaired include:
You hear loud noises or smell strange odors.
There is excessive dust coming from the air ducts.
There's excessive humidity in your home.
The unit blows warm air or no air at all.
The unit is more than 10 years old.
There's a rise in energy bills.
The unit is leaking water or has frost buildup.
It's a good idea to make a call to All Out if you notice any of these problems to avoid bigger problems and breakdowns. Annual AC maintenance with our team will allow for your system to run efficiently each season. Prevention techniques, such as awareness of malfunctions and setting up maintenance and repair visits with us will make for a carefree summer.
Let Us Identify the Problem for You
When you need a professional to work on something in your home, you want to make sure you are receiving top-notch service and peace of mind. All Out is here for that. We provide the solution you need for any issue, small or large. Our technicians have been trained to keep your system properly maintained, whether it's a brand-new high-efficiency system or an outdated version that still has some life left in it. Keeping a properly functioning AC system through repair and maintenance will keep your home's environment cool and your family happy.
You owe it to yourself to work with a highly trained technician who will help cool your home in an energy-efficient way. A very large portion of a typical household budget tends to go to maintaining the ideal temperatures in a home. When your cooling system isn't working properly, that cost only rises. We not only know how important it is to save money each month, but to also stay cool during those Tempe summers.
Benefits of AC repair include:
Huge savings on monthly energy bills.
A cooler, more comfortable indoor space.
Fewer allergens and airborne irritants.
Reduced noise for a better night's sleep.
Extended system lifespan for long-term savings.
And more!
Our team is here for you. We will listen to your concerns, analyze the problem and give our honest opinion on the best possible solution. Customer satisfaction is our number one priority and we always offer upfront pricing.
Expert Air Conditioning Repair You Can Trust
Since 2015, we've been aiming for the best possible customer service and experience. We live and work in the communities we serve, so we know just how important it is to have reliable air conditioning all summer long. Whether you are in Gilbert, Mesa, Sun Lakes or Scottsdale, we have repair solutions for you! If you notice any signs of your AC not working as it should, give us a call at 480-578-1370 for expert service.
How much does ac repair cost near Chandler, AZ?
On average, minor repairs like replacing a capacitor or a fan motor may cost between $150 to $400. More significant repairs, such as fixing refrigerant leaks or replacing a compressor, can range from $500 to $1,500 or more. Emergency or after-hours service calls may have additional charges. It's best to contact a reputable HVAC company for a diagnosis and cost estimate specific to your AC issue. Regular maintenance can help minimize the need for costly repairs and keep your system running efficiently.
Is it worth fixing my AC or should I replace it?
You should choose whether to repair or replace your air conditioner based on the system's age, the severity of the issue, the cost of repairs, energy efficiency, and your long-term goals. If your air conditioner is reasonably new and in good shape, it might be repairable for a fair price. But if the system is old, requires a lot of care, or is expensive to maintain, replacing it can be more cost-effective in the long run. Consider the efficacy of more contemporary models and potential energy savings. By speaking with HVAC professionals, you can make an informed decision based on your particular circumstances.