Ductwork Sealing Services for Homes Near Chandler, AZ
Are you experiencing high spikes in your utility bills? Perhaps it's difficult to heat or cool certain rooms? Sometimes problems that seem to be coming from your heating and air conditioning systems are actually problems in the ductwork. It's hard to tell what's happening behind the scenes, but we are here to help with that. Duct sealing will allow your home to maintain its proper temperature and airflow while saving you money on utility costs. When you choose All Out Cooling & Heating for your ductwork sealing needs, we will wow you with our professionalism, experience and high standards!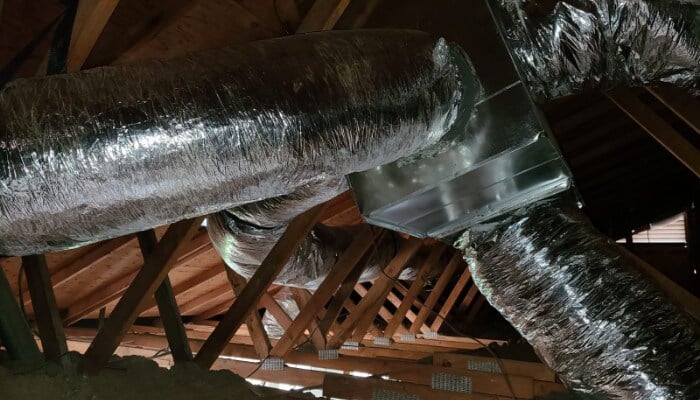 Symptoms of Leaky Air Ducts
Having well-sealed and properly-installed ductwork is extremely important for the energy efficiency of your HVAC system. When an issue like a leak occurs, you end up with airflow issues, higher-than-normal energy bills and extra wear on your system. This can cause all-around discomfort and long-term damage if the problem isn't fixed in a timely manner.
Signs your air ducts may have a leak include:
A spike in energy costs.
Increased seasonal allergies.
Decreased indoor air quality.
Stuffy rooms and inconsistent airflow.
Rooms that are hard to heat or cool.
Increased dust throughout your home.
Our trained and certified technicians are happy to service the homes of Chandler and the surrounding communities. If you notice signs that your air ducts have a leak, allow us to help solve the problem with your ducts the first time around so you can enjoy comfortable indoor temperatures year-round.
Why Choose Expert Ductwork Sealing
It may seem like a budget-friendly idea to handle duct sealing on your own, but sometimes it's best to leave it to the professionals. When air ducts aren't sealed properly, you can lose energy throughout your home resulting in an uncomfortable setting. All Out is here to handle any and all ductwork issues. Trust our trained technicians to take care of the task in a prompt and professional manner.
Advantages of professional ductwork sealing include:
Consistent airflow and better circulation.
Even temperatures throughout rooms.
Better indoor air quality.
Longer HVAC system lifespan.
Greater energy efficiency.
Lower energy bills.
No more cold or hot spots from room to room.
And more!
During the sealing process, our technicians will thoroughly inspect the duct system to find any problems. They will then repair any disconnected ducts and seal any leaks or connections. and insulate the ductwork if required. After sealing is completed, our team will carefully examine the work and test the heating and cooling equipment in conjunction with your ducts.
Call All Out Keep to Your Home Comfortable
A leaky air duct will cost you in the long run – don't let it cause problems that can be avoided. Stay cool in the summer and warm in the winter at your home by hiring expert HVAC specialists! We will handle all of your ductwork needs so you can stay comfortable and save money. Call us today at 480-578-1370 and let our team of certified technicians handle all your ductwork sealing needs!