Ductless Mini-Split Installation & Repair Near Chandler, AZ
You don't need ductwork installation in your home to heat and cool individual rooms and spaces. Ductless mini-splits make for an efficient heating and cooling system that offers greater flexibility than central air systems and huge savings on energy costs. Because you don't always have to heat and cool the entire house, you save on those rooms that are not being used. All Out Cooling & Heating provides multiple services for all your ductless mini-split needs across the Chandler, AZ, area, from Gilbert to Mesa and beyond!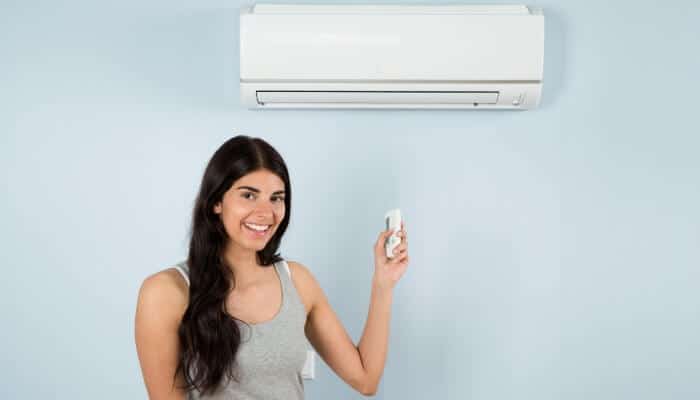 Ductless Mini-Splits Can Be a Great Alternative to Central Air
Saving money is a huge perk you gain from installing a ductless mini-split system. You will be able to control the temperatures in each area of your home, while only heating or cooling certain rooms if you desire. This practice helps you save on energy costs while helping to extend the life of the system.
We always encourage our customers to check out some of the latest makes and models in ductless systems. They tend to provide a more efficient and energy-saving outcome than older styles. Let our team of technicians work on your installation for you! We will help you in the decision-making process and provide options that work best for your personal space.
Some benefits of ductless systems include:
Fast and easy installation.
Customizable options for small spaces.
Energy savings and increased air quality.
Fewer emissions and reduced carbon footprint.
Comfort for small spaces like garages and bedrooms.
And more!
What Goes Into Ductless Mini-Split System Installation?
When adding ductwork is impractical due to layout issues or budget, ductless systems are the optimal heating and cooling solution. Ductless mini-splits allow for heating and cooling on a room-to-room basis. Let our team of professionals install an adjustable system that will keep you comfortable year-round all while saving money.
During the installation process, we will:
Carefully measure your home's layout and calculate the necessary capacity.
Work with you to see what options are best for your home and are the most energy and cost-efficient.
Professionally and promptly install indoor and outdoor units with attention to detail.
Offer maintenance on your system to extend its longevity and save you on future repair costs.
Our certified technicians are always committed to keeping your home comfortable all year long. If you are considering installing a ductless mini-split for your home, we will work with you to see which model works for your budget and your taste. Enjoy the ease of a seamless process from your first call to us to the finalized installation.
Ductless Mini-Split Repairs
Our team is not only specialized in ductless system installations and maintenance but also in repairs. If something happens to your system, we will come and inspect the situation for you. We carefully check the issue at hand and anything else that could lead to problems down the line.
No matter the problem, our team has the tools and experience to quickly troubleshoot and diagnose any issue. Once we find the cause, we will implement a lasting repair solution so you can get back to the comfort you need and avoid future issues. Let our certified technicians help with all of your heating and cooling needs!
Enjoy Customized Airflow Today
Having a ductless system gives you the ability to heat or cool your space on a room-to-room basis. You can also switch from cool to warm air depending on the season. If you are thinking about having a ductless system installed, you are at the right place! Our technicians will seamlessly inspect your space, find the correct product that works for you and install your system with ease.
We don't just provide cooling installations and replacements, though. We also provide repairs and maintenance for ductless mini splits to keep your system running efficiently for as long as possible. We are here to help you make the most of your system and enjoy greater comfort all through the Sun Lakes and Scottsdale area summers and winters. Call All Out today at 480-578-1370 for all your mini-split needs!