Heating & Furnace Repair Services Near Chandler, AZ
Our team of technicians understands how important it is to have a reliable furnace and immediate access to heat during the cooler months. Throughout winter in the Chandler, Sun Lakes and Tempe areas, you should be able to enjoy the comfort of your own home. If there are any hiccups with your heating system, it can be really distracting, uncomfortable, and even a safety hazard. That's why All Out Cooling & Heating is here to ensure you have access to fast and affordable heating and furnace repair services every time you need them!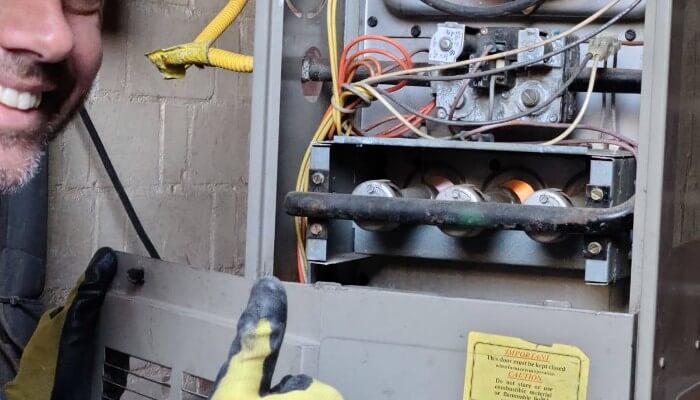 We Are Prepared for Any Heating Problem
If you run into heating issues and are unsure whether your furnace needs to be repaired or replaced, our team of trained professionals is here to carefully diagnose the issue and let you know the best solution for the specific problem. We will provide a cost-effective and hassle-free solution to ensure your furnace keeps your energy costs low and runs at its maximum potential. We work on all makes, models and brands and will advise whether a repair or a heating replacement makes the most sense.
Your furnace may need repair if:
The thermostat temperature doesn't match the indoor temperature.
The pilot light won't stay lit or won't light at all.
You notice any electric ignition issues.
There is insufficient heat or uneven heating across your home.
The furnace is frequently cycling on and off.
You notice loud noises while the system is running.
Your gas bills are increasing, even with normal furnace usage.
There's a buildup of dirt or dust within your home.
There's rust or corrosion around your furnace or pipes.
Your furnace is more than 20 years old.
You shouldn't have to be wrapped in blankets day and night because of a faulty furnace. Let our team handle the repair for you. We will thoroughly inspect the situation, accurately diagnose the problem, come up with a complete solution and test your system for proper function. Our technicians are highly trained and experienced in tackling even the most complex situations in a prompt and professional manner. You can even book heating maintenance and tune-up with us to make sure your furnace is in prime operating condition year-round.
Dependability & Comfort You Deserve
The technicians at All Out want you to be content with your indoor climate year-round. Our team of technicians understands how important it is to have a reliable furnace and strives to provide exceptional products and customer service for your comfort.
What you get from our team:
Highly trained and certified technicians.
Upfront pricing.
Quick responses.
Quality recommendations.
Accurate sizing and installations.
Maintenance options.
And more!
You will find that we service any make and model of furnace in a timely fashion so you can stay safe and cozy during the cooler months with a highly efficient furnace. Trust our expert team to fix any repair, big or small. We are a team of specialists who have worked on numerous types of heating systems, models and brands. No matter the issue, give us a call today at 480-578-1370 for the right solution that meets your unique needs!