Residential Air Conditioning Installation Near Chandler, AZ
Whether you want to replace an out-of-date air conditioning unit, are building a new home or are looking to save money on your monthly bills, All Out Cooling & Heating is here for all your AC installation needs. Allow our specialists to take care of the hard work for you. We are here to help keep your home comfortable, lower energy bills, improve air quality and reduce allergens. Our trained technicians strive for excellence when it comes to customer service. We will make sure to discuss your needs in advance to help you find the best system for your budget.
What to consider when installing a new AC unit:
Whether your home is properly insulated to support the new unit.
The size of your home and the size of the unit needed to cool it.
Which make, model and brand are the most cost-effective.
The efficiency of your ductwork to support the new unit.
Did you know that installing a new air conditioner system can not only save you money on energy bills but can also add value to your home? Window units throughout the home tend to draw large amounts of energy and don't cool the entire home equally. All Out will find the perfect new system for your family's needs.
It's always wise to find an honest and reputable company to handle your home's AC installation in the Chandler, AZ, area. Our experienced installers are familiar with different techniques and products and will diagnose any issue to determine whether an AC repair or replacement makes the most sense. We take pride in our attention to detail and workmanship.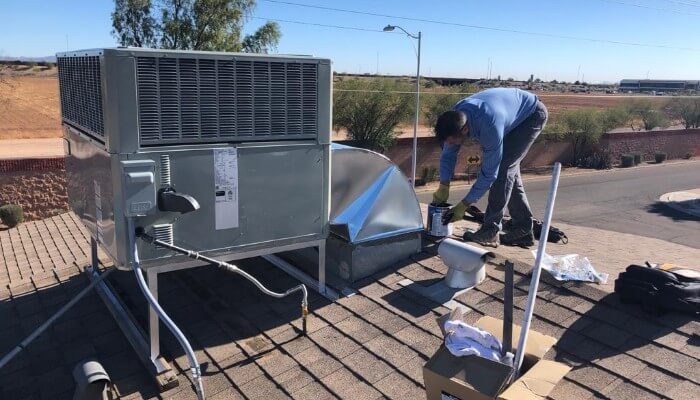 How Do You Know When to Replace Your AC?
When it's time to install a new air conditioning system, we understand how expensive and frustrating the process can be. That's why our team of professionals is here to help with every step of the installation process. We work with our customers to ensure the offerings are within their budget and family's needs. Don't sit at home in the heat and humidity one more day! All Out will ensure your new AC keeps your home cool and comfortable for years to come.
Your air conditioner may be at the end of its lifespan if:
You see an increase in your energy bills.
It is more than 10 years old.
It produces odd sounds or odors.
It no longer keeps your home cool.
There's a buildup of moisture.
There are high levels of humidity and allergens.
You want to increase property value.
Investing in a comfortable indoor environment is a rewarding decision that provides many years of enjoyment. Keep your home cool, your family happy and your guests comfortable with our top-of-the-line products. Our certified technicians are happy to help you with your air conditioning services within the Mesa, Tempe and Sun Lakes area. Whether you just built a home, are installing the home's first AC system or need to replace an outdated one, our team is here to help. We make each step of the installation process quick and easy for you.
We Are Here to Serve
Whether you want to replace an out-of-date air conditioning unit, are building a new home or are looking to save money on your monthly bills, All Out is here for all your installation needs. We understand the frustrations that can come along with decisions going into a new installation. Our professionals make the process a breeze to keep your home comfortable year-round with our quality products and services.
Allow our trained technicians to find the very best system and flexible financing option for your home and take care of the hard work for you. We offer a wide range of top-of-the-line AC units at very reasonable prices. We will discuss all options with you to ensure you get what works perfectly for your home and your budget. Call us today at 480-578-1370 to schedule your service!
How much can I save by upgrading to a new air conditioner?
The savings from upgrading to a new air conditioner depend on factors like energy efficiency, usage, and the current system's condition. Generally, a more efficient unit can save you 20-40% on cooling costs. If your old unit is outdated and inefficient, the savings could be substantial over time, potentially hundreds of dollars annually. Additionally, newer models often come with advanced features like programmable thermostats, further enhancing energy savings. To get an accurate estimate, consult an HVAC professional to assess your specific situation and recommend the most cost-effective upgrade.